Six Pillars at JAOU Tunis: Antonia Carver, Art Dubai + Rahilla Zafar, Arab Women Entrepreneurs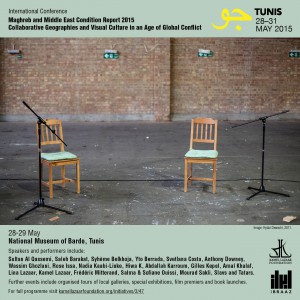 At JAOU Tunis conference May 2015 artist Chris Weaver speaks with Antonia Carver, director of Art Dubai, after the panel 'Future Imperfect: Art Institutions in the Middle East', and Rahilla Zafar, author and business consultant about her book on Arab women entrepreneurs.
Antonia Carver has written extensively on Middle Eastern art and film, as a correspondent for The Art Newspaper and Screen ArtDubai International, among other publications, books and journals.
Rahilla Zafar writer, editor and business development consultant for Wondros, contributes to The Economist's GE Look Ahead, an award-winning series on global innovation trends. Rahilla co-wrote 'Arab Women Rising: 35 Entrepreneurs Making a Difference in the Arab World' and is working on a book on women in Saudi Arabia.
After the Bardo Museum attacks on tourists in 2015, JAOU festival did not deter from holding its annual arts events again at the Tunis museum.