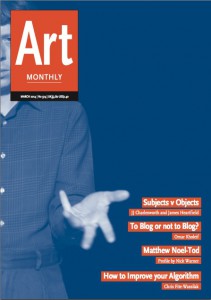 How to Improve your Algorithm. Chris Fite-Wassilak on reclaiming the digital landscape. As our self-surveilling culture of digital sharing turns increasingly dystopian, how have artists – such as Adam Curtis, Simon Denny, Fiona Marron, Dennis McNulty and others – worked to show that these all-encompassing datascapes remain ours to transform?
'Edward Snowden's disclosures have helped spark a public awareness and debate about where the internet's liberatory aspirations might have led us. The next step in shifting the debate could be away from paranoia and Matrix-like reductivism to a more proactive embrace.'
To Blog or not to Blog?  Omar Kholeif asks the question if online publishing holds so many advantages over print, why is it that much web-specific writing continues to suffer from sloppy sub-editing and link-bait, content-farming tendencies? And where does this leave art criticism in a post-blogging age? 'The worry is that the exploratory nature of longer forms of criticism is increasingly replaced with the quick-fire list which can be easily viewed on an iPhone – distracted cultural snacking.'
Larne Abse Gogarty reviews Time & Motion: Redefining Working Life FACT, Liverpool
Hosted by Chris McCormack the Assistant Editor of Art Monthly.
Previous episodes are available on Art Monthly's website www.artmonthly.co.uk/events.htm
Art Monthly magazine offers an informed and comprehensive guide to the latest developments in contemporary art.Fiercely independent, Art Monthly's news and opinion sections provide regular information and polemics on the international art scene. It also offers In-depth interviews and features; reviews of exhibitions, performances, films and books; art law; auction reports and exhibition listings
Art Monthly magazine is indispensable reading!
Special magazine subscription offer  £29 .

Art Monthly Talk Show on Resonance104.4FM 10th March 2014
Play Now
|
Play in Popup
|
Download