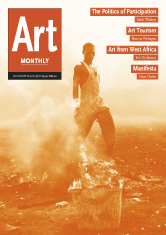 Writers and curators Nick Warner and Chris Fite-Wassilak discuss London and Norwich events and shows. A Crate, Margate Symposium at Showroom, London, solo exhibitions by Gina Saccone at Supplement, London, Gareth Jones at Raven Row, Patrick Keiller at Tate Britain and an exhibition of two net based artists Joel Holmberg & Jon Rafman coming out into the "real" world of the gallery at the artist run OUTPOST gallery, Norwich.
The programme is hosted by Matt Hale who has worked at Art Monthly since 1991.
Previous episodes are available on Art Monthly's website www.artmonthly.co.uk/events.htm
Art Monthly magazine offers an informed and comprehensive guide to the latest developments in contemporary art.
Fiercely independent, Art Monthly's news and opinion sections provide regular information and polemics on the
international art scene. It also offers In-depth interviews and features; reviews of exhibitions, performances, films and books; art law; auction reports and exhibition listings
Art Monthly magazine is indispensable reading!
Special magazine subscription offer for Resonance 104.4 listeners.Subscribe now and save 40% on the cover price at

Art Monthly on Resonance104.4FM august 10th 2012
Play Now
|
Play in Popup
|
Download