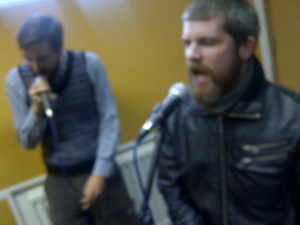 This edition of The Hello GoodBye Show paid tribute to the artist/broadcaster Ferris Blood who died last year from cancer at a tragically young age and this weekend witnesses a number of events that all aim to pay tribute to his life and talent.
Ferris was the co-creator with Llyr Williams of Depressing Comics and also the brains behind the Dear Puppeteer radio show spin-off that was first aired on Resonance FM back in 2010.
Today on Hello GoodBye we feature live music from; bib & The Bronstein.
Depressing Comics co-founder Llyr Williams will also join us in the studio to read and discuss the just published paper back compendium of the comic.
Intellectual boy-band bib have re-formed especially for this event and join us in the studio with their wry, observational electro-pop.
Melinda Bronstein (The Bronsteins) performs bitter / sweet infectious pop.
Hello GoodBye playlist: Sat. 13th Oct. 2012
Mathew Sawyer & the Ghosts – A Good Friend
bib – Victims of Crime (LIVE SESSION)
bib – Jobs on Line (LIVE SESSION)
bib – Cash City (LIVE SESSION)
Polsky – The George Lazenby Banana Plant Bossa-Nova
bib & Llyr Williams – 'Interview'
Llyr Williams – Unlucky Status (Depressing Comics) (LIVE READING)
Duncan McAfee – Sunflowers (Depressing Comics) (LIVE READING)
The Houses We Made (aka The Sober Project) – Sunflowers
Gary Oakey – Too Hot
Llyr Williams – Work (Depressing Comics) (LIVE READING)
The Houses We Made (aka The Sober Project) – In This House
The Drunk Project (aka The Leonard Cohen) – In / Out
Kostoglotov – I Put Myself Against The Amp And Asked If I Loved You (part 1)
Umez – Rainbow
The Bronstein – Chicken Bones (LIVE SESSION)
The Bronstein – It Wasn't Me (LIVE SESSION)
The Bronstein – Know Why (LIVE SESSION)
David Tattersall – The Sunshine Hotel
Melinda Bronstein – 'Interview'
Llyr Williams – Self Abuse (Depressing Comics) (LIVE READING)
Attila The Stockbroker – Prince Harry's Knob
Lime Headed Dog – Swan
Live sound engineers: Kacper Ziemianin, Tom Kemp & Joe Oldfield
Contact: deXterBentley@hotmail.com

Hello GoodBye Show - Sat. 13th Oct. 2012
[ 1:29:50 ]
Play Now
|
Play in Popup
|
Download