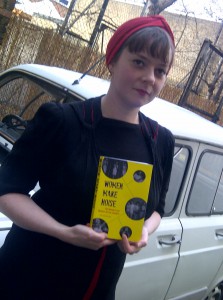 This final episode of Hello GoodBye for 2012 promises be a big bumper box of treats!
Featuring live music from: Unit, Keeley Forsyth & Sisters.
Also, author Victoria Yeulet joins us in the studio to read an extract from 'Women Make Noise', a new book that documents the role of women within contemporary music.
UNIT have been in existence since 2000, irritating and annoying everyone with their curiously mutated pop songs and avant gardening. Until 2011 the group consisted primarily of Chinese teenagers plus a token white man as a sop to ensure ethnic diversity. In November 2012 we completed our 24th album which is due out before December 31st. Our group is now so ridiculously eccentric and off the wall that even we can't be sure who's in it now. As far as I am aware, I think I'm still a member but that may be just a malicious rumour.
Unit singer Andy Martin's books – A History Progressive Rock – Chinese Cinema 1905-2005 – Faded Fragments Of Distant Dreams (an autobiographical account of my 4 years in Alton Secondary School) are also available from their website.
Keeley Foryth is an actor, singer, performer and keen collaborator working with artists and film makers on live projects and experimental performances in galleries, museums, old biscuit factories. 'The Scuttler' is a character born out of a workshop with art duo boyleANDshaw in 2009 whilst investigating a one act play 'I Rise In Flames Cried The Phoenix' based around the last hours of DH Lawrence's life. 'The Scuttler' became an extension of the character Brett or Bertha in the play and has been a way to develop a sound that connects her rural Lancashire roots, folk tales, domestic noise, digital murmurs and vibrations. Keeley Forsyth's forthcoming album is entitled The Scuttler.
Sisters are a new all female ensemble featuring Sylvia Saunders, Astrud Steerhouder (The Rayographs / Paper Dollhouse) and Victoria Yeulet.
Playlist:
Kitchen Winos – Horsethief
Unit – For Nick Wong (LIVE SESSION)
Unit – Innocence (LIVE SESSION)
Unit – In a sense (LIVE SESSION)
Unit – Tolerance is a mask for apathy (LIVE SESSION)
The Clash – Career Opportunities
Unit – 'interview'
Jude Cowan & Wim Oudijk – Russian Ice Swimming
Roba Stanley – Single Life
Victoria Yeulet – Women Make Noise (extract) (LIVE READING)
The Carter Family – My Clinch Mountain Home
Keeley Forsyth – Time heals everything (LIVE SESSION)
Keeley Forsyth – Then they came a time (LIVE SESSION)
Keeley Forsyth – Trouble in my heart (LIVE SESSION)
Keeley Forsyth – When will I see you again? (LIVE SESSION)
Keeley Forsyth – 'interview'
Art Trip & the Static Sound – Darlin'
Piper's Son – Mining
Sisters – I'm going to that city (LIVE SESSION)
Sisters – I want Jesus to walk with me (LIVE SESSION)
Sisters – Living testimony (LIVE SESSION)
Presenters: deXter Bentley, Ean Ravenscroft & Dan Frost
Live sound engineers: Tom Kemp & Joe Oldfield

Hello GoodBye - 15.12.12
[ 1:36:07 ]
Play Now
|
Play in Popup
|
Download