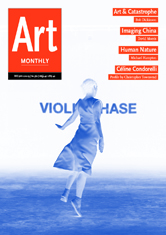 Ajay Hothi opens the magazine that was a box- Aspen Magazine 1965-71
Questioning the successes, or otherwise, of its own form allowed Aspen to become a series of individual art objects.
Michael Hampton discusees his feature Human Nature on contrasting views of outdoor art
Recent exhibitions, including 'Garden of Reason' and 'Wild New Territories', have presented art in pastoral settings. How have artists, such as Gordon Cheung, Alexandre da Cunha, Kathleen Herbert, Alan Kane, Michael Landy, Simon Periton and Daphne Wright, responded to nature and mankind's determination to shape it?
'Hermit-in-residence Harold Offeh's Arcadia Redesigned, 2012, a seasonal consultancy in a glass-fibre grotto at the bottom of Ham's Kitchen Garden, was supplemented by a series of fantastical spectacles.
The programme is hosted by Matt Hale who has worked at Art Monthly since 1991.
Previous episodes are available on Art Monthly's website www.artmonthly.co.uk/events.htm
Art Monthly magazine offers an informed and comprehensive guide to the latest developments in contemporary art.Fiercely independent, Art Monthly's news and opinion sections provide regular information and polemics on the international art scene. It also offers In-depth interviews and features; reviews of exhibitions, performances, films and books; art law; auction reports and exhibition listings
Art Monthly magazine is indispensable reading!
Special magazine subscription offer  £29 .

Art Monthly Talk Show on Resonance104.4 FM, 14th December 2012
Play Now
|
Play in Popup
|
Download