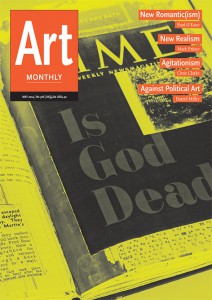 Daniel Miller, Paul O'Kane and Stephen Wilson discuss their features and reviews from the May issue of Art Monthly. Daniel discusses he is Polemic piece entitled  Against Political Art, Paul O'kane discusses his feature New Romatic(ism) and Stephen discusses his report on Art Taipei.
The show is hosted by Chris McCormack the Assistant Editor of Art Monthly.
Previous episodes are available on Art Monthly's website www.artmonthly.co.uk/events.htm
Art Monthly magazine offers an informed and comprehensive guide to the latest developments in contemporary art.Fiercely independent, Art Monthly's news and opinion sections provide regular information and polemics on the international art scene. It also offers In-depth interviews and features; reviews of exhibitions, performances, films and books; art law; auction reports and exhibition listings
Art Monthly magazine is indispensable reading!
Special magazine subscription offer  £29 .

Art Monthly Talk Show on Resonance104.4FM 12th May 2014
Play Now
|
Play in Popup
|
Download