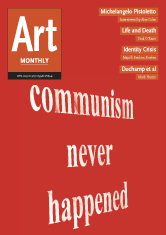 Paul O'Kane, Mark Harris and Reuben Fowkes discuss their texts in the April 2013 issue of Art Monthly
Life and Death- Paul O'Kane on art and being. If art in secular societies plays some part in defining humanity, how have artists such as John Akomfrah, Nick Broomfield and Patrick Keiller met the challenges laid forth by globalisation's increasingly pervasive and invasive brand of technocapitalism?
'When, occasionally, the shameful excesses, inadequacies and inequalities underpinning consumerism are glimpsed in news media, these "shocking facts" become yet more fleeting images, commodified emotions of momentary indignation and injustice.'
Maja & Reuben Fowkes on the return of the East European. When the coalition government recently proposed running an anti-UK advertising campaign in Eastern Europe with the aim of discouraging immigration, it brought an outmoded cultural categorisation back to life. Perhaps Number 10 might have looked at the work of Adam Chodzko, Roman Ondák, Dan Perjovschi and Nedko Solakov before returning the generic 'East European' to the discourse around identity.
'In the 2000s these artists were likely to feel at home in the post-identitarian circuits of a globalised art world which abandoned the cult of origins in favour of a universalist outlook, but now they are faced with the return of the East European.'
Mark Harris on  The Bride and the Bachelors: Duchamp with Cage, Cunningham, Rauschenberg and Johns at the Barbican, London in Spring 2013
The programme is hosted by Matt Hale who has worked at Art Monthly since 1991.
Previous episodes are available on Art Monthly's website www.artmonthly.co.uk/events.htm
Art Monthly magazine offers an informed and comprehensive guide to the latest developments in contemporary art.Fiercely independent, Art Monthly's news and opinion sections provide regular information and polemics on the international art scene. It also offers In-depth interviews and features; reviews of exhibitions, performances, films and books; art law; auction reports and exhibition listings
Art Monthly magazine is indispensable reading!
Special magazine subscription offer  £29 .

Art Monthly Talk Show on Resonance104.4FM
Play Now
|
Play in Popup
|
Download