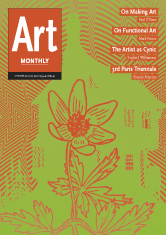 Paul O'Kane and Sophie J Williamson discuss their features in the October 2012 issue of Art Monthly-
On Making Art by Paul O'Kane on the act of making and the making of the act The notion of creativity has been subjected to rigorous critique in the postmodern era but the act of making – the business of negotiating the idiosyncracies of the artist's chosen medium – still remains central. In the digital age, however, the media of mundane labour and creative expression are often the same, so is it time for artists to reconceive the act of making and the making of the act?
The Artist as Cynic by Sophie J Williamson writes in praise of shamelessness.The scandalous Cynics of ancient Greece lived a life free from social restraint, speaking their minds – and indeed performing their bodily functions – in public and thereby exposing the hypocrisy and political motivations underlying most social conventions. Many performance artists, such as Marina Abramović and Cosey Fanni Tutti, have utilised similar techniques, but in an age of voluntary and involuntary surveillance through social networks, how have artists such as Christoph Schlingensief and Ai Weiwei tapped into the spirit of the Cynics for political protest?
The programme is hosted by Matt Hale who has worked at Art Monthly since 1991.
Previous episodes are available on Art Monthly's website www.artmonthly.co.uk/events.htm
Art Monthly magazine offers an informed and comprehensive guide to the latest developments in contemporary art.Fiercely independent, Art Monthly's news and opinion sections provide regular information and polemics on the international art scene. It also offers In-depth interviews and features; reviews of exhibitions, performances, films and books; art law; auction reports and exhibition listings
Art Monthly magazine is indispensable reading!
Special magazine subscription offer for Resonance 104.4 listeners.Subscribe now and save 40% on the cover price at

Art Monthly Talk Show on Resonance104.4 FM, 12th October 2012
Play Now
|
Play in Popup
|
Download