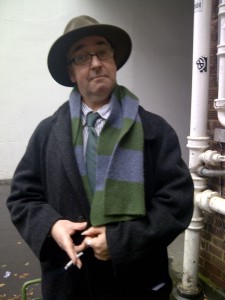 Performance artist, painter, poet, musician, author, singer, songwriter, independent record label impresario… the list goes on, Sexton Ming is truly a 21st Century renaissance man and this afternoon on Resonance FM he curates the entire 90 minutes of The Hello GoodBye Show. 
 
Featuring live input from Sexton Ming, Hand of Stabs and Broken Banjo.
 
Sexton will also playing the 10 tunes that he would choose to take with him if locked up in solitary confinement.
Playlist:
Buddy Holly & the Crickets – Not Fade Away
Hand of Stabs – 'untitled improvisation' (LIVE SESSION)
Black Sabbath – Sweet Leaf
Hand of Stabs – 'interview'
Frank Zappa – G -Spot Tornado
David Bowie – There is a Happy Land
Sexton Ming – Chalk Farm Rugby Pitch (LIVE POEM)
Sexton Ming – Obese Young Mothers (LIVE POEM)
Aphex Twin – Come To Daddy
Janis Joplin – Work Me Lord
H.P. Lovecraft – Let's Get Together
Sexton Ming – The Rain (LIVE POEM)?
Low – Over the Ocean
Sigur Ros – Von
Broken Banjo – Regretamin and the Horse (LIVE SESSION)
Broken Banjo – Le Barry (LIVE SESSION)
Broken Banjo – 'interview'
Captain Beefheart & the Magic Band – Magic Be
Presenters: Sexton Ming & deXter Bentley?
Live sound engineers: Tom Kemp & Joe Oldfield

Hello GoodBye - 24.11.12
[ 1:35:45 ]
Play Now
|
Play in Popup
|
Download