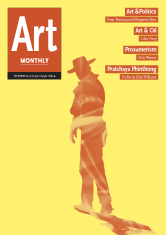 Chris Mc Cormack, Art Monthly's Assistant Editor discusses a feature and a review from issue 369 July/August Art Monthly magazine with the authors.
Art & Politics
Which side is art on ask Dean Kenning and Margareta Kern
In the face of government austerity measures which have squeezed artists and public arts provision more than any other sector, an elite art world has continued to prosper. Isn't it time that, in order to develop political agency in their work, artists begin to acknowledge this glaring dichotomy?
'Can art act in opposition to neoliberal power and manifest values based in equality, commonality and solidarity? Or does art simply manifest and further the interests of a transnational capitalist class?'
Omer Fast
Sophie J Williamson on Omer Fast: 5,000 Feet is the Best at the
Imperial War Museum, London summer 2013
Previous episodes are available on Art Monthly's website www.artmonthly.co.uk/events.htm
Art Monthly magazine offers an informed and comprehensive guide to the latest developments in contemporary art.Fiercely independent, Art Monthly's news and opinion sections provide regular information and polemics on the international art scene. It also offers In-depth interviews and features; reviews of exhibitions, performances, films and books; art law; auction reports and exhibition listings
Art Monthly magazine is indispensable reading!
Special magazine subscription offer  £29 .

Art Monthly Talk Show on Resonance104.4FM 9th September 2013
Play Now
|
Play in Popup
|
Download