A generation ago, the aeroplane pilot and sage Numan asked "Are friends electric?" It was pertinent then, and is perhaps more so now. Over the years, many thinkers have grappled with Numan's question, but it is fair to say that none has been able to give a satisfactory answer. Much publicity was generated when Pilbrow published his big fat Symposium on the problem. The garlanded laureate of pseudo-sci fi hermeneutic psychobabble persuaded over a hundred movers, shakers, and hysterics to respond to the poser put by Numan, and then toured the radio and television studios giving inaccurate summaries of their replies.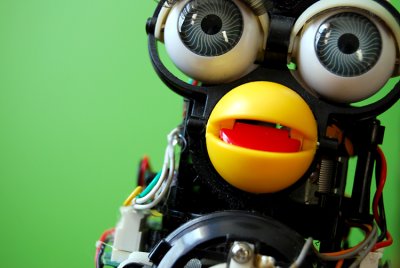 Few who saw it will forget the Newsnight appearance when Pilbrow's pretensions were comprehensively demolished by weatherman Daniel Corbett, who strode across the set from his meteorological map and literally tore a copy of the Symposium to shreds before Pilbrow's – and Jeremy Paxman's – eyes. It was a cheaply-produced paperback edition of the book, with weakly-glued binding, but Corbett's feat was no less impressive for that.
This episode was recorded on the 27th of June 2007. A complete transcript of this episode can be found on Frank Key's Hooting Yard website. Accompanying Hooting Yard On The Air, the two publications Unspeakable Desolation Pouring Down From The Stars and Befuddled By Cormorants are available for purchase. Photo by neon.macmita.

Standard Podcast
Play Now
|
Play in Popup
|
Download