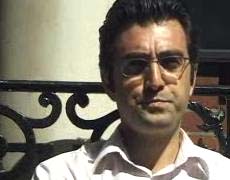 A Resonance FM ClearSpot show presented by Neil Denny of Little Atoms and Fari Bradley of Six Pillars to Persia.
The recent Iranian elections were mired in controversy and accusations of corruption. Early in August around 100 so called "opposition leaders" appeared in a Tehran courtroom, in what has been described as a Stalinist show trial. They had been accused of formenting a "Velvet Revolution". This program focuses on one of those accused, the Canadian Journalist and film-maker Maziar Bahari.
Joining Fari and Neil to discuss Maziar's current plight, and his life and career as a journalist, are the film-maker Simon Ardizzone, who collaborated as editor on a number of Maziar's films, writer Malu Halasa, co-editor with Maziar of the book Transit Tehran, and Little Atom's own Padraig Reidy, news editor of 'Index on Censorship'.

Clear Spot - Maziar Bahari
[ 0:01 ]
Play Now
|
Play in Popup
|
Download