Dobson was no stranger to controversy, but rarely did he create so tumultuous a brouhaha as was caused by his pamphlet Hints And Tips For Intrepid Explorers In The Polar Wastes (out of print). Dobson himself had of course never been anywhere near either the Arctic or the Antarctic, and one of the many puzzles he left behind for the unwary biographer is the question of why he ever thought he was qualified to address the subject. He was only too ready to admit to his ignorance of certain matters, made plain in pamphlets such as My Blithering Ignorance Of Vast Swathes Of Ornithology and When It Comes To Ice Hockey, I Have No Idea What I Am Talking About, both of which are tragically out of print.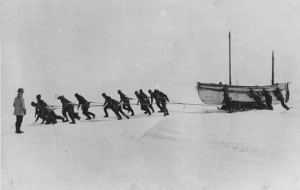 Yet he felt able to compile a list of hints and tips for polar exploration, and ensured that Marigold Chew ran off more copies on the Gestetner machine in the potting shed than she did of almost any other pamphlet he ever wrote. Indeed, a number of their breakfasts were ruined during a period in the 1950s when the pamphleteer insisted that his inamorata gobble down her kedgeree in double quick time so she could hurry off to the shed to crank out another dozen copies. Oddly, he does seem to have actually had some success in selling them, though this may have been due to the breathtakingly gorgeous mezzotint of a polar bear, by the noted mezzotintist Rex Tint, which was used on the cover. There was a sort of polar bear fad at the time, occasioned by the popular radio serial The Adventures Of Martin The Polar Bear, starring Cicely Courtneidge and Jack Hulbert. The historian and cultural commentator Bevis Sebag has suggested, compellingly, that most of the people who bought Dobson's pamphlet tore off the cover, placed the mezzotint in a frame and hung it on the wall of their parlour, and chucked the pamphlet itself into the bin.
This episode was recorded on the 5th April 2012. A complete transcript of this episode can be found on Frank Key's Hooting Yard website. Frank's new eBook By Aerostat to Hooting Yard is now available for purchase.

Hooting Yard: On Speed
[ 28:59 ]
Play Now
|
Play in Popup
|
Download