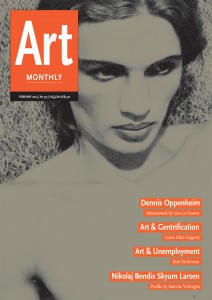 Bob Dickinson discusses his feature from Art Monthly February 2014 on art and unemployment and his reviews of related exhibitions at Tate Liverpool, Castlefield Gallery and Untitled Gallery Manchester.
The representation of the jobless in art shifted dramatically in the 20th century as industrialisation brought with it mass protests in public spaces against the conditions of the unemployed. But how have artists such as LaToya Ruby Frazier, Richard Shields and the Bite Back Movement portrayed the increasingly invisible unemployed of our current post-industrial world?
'In the post-industrial world so-called unemployment blackspots out of which the unemployed never seem to be able to escape, and into which artists find it difficult to fit, have replaced the public spaces through which the older, defunct icons of unemployment previously paraded or demonstrated.'
The programme is hosted by Matt Hale who has worked at Art Monthly since 1991.
Previous episodes are available on Art Monthly's website www.artmonthly.co.uk/events.htm
Art Monthly magazine offers an informed and comprehensive guide to the latest developments in contemporary art.Fiercely independent, Art Monthly's news and opinion sections provide regular information and polemics on the international art scene. It also offers In-depth interviews and features; reviews of exhibitions, performances, films and books; art law; auction reports and exhibition listings
Art Monthly magazine is indispensable reading!
Special magazine subscription offer  £29 .

Art Monthly Talk Show on Resonance104.4FM 10th February 2014
Play Now
|
Play in Popup
|
Download