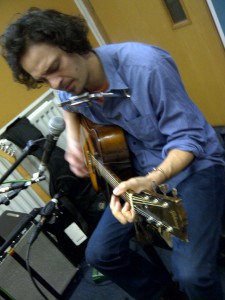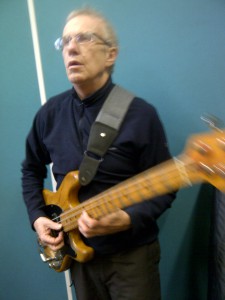 Live music on Hello GoodBye; with absurdest-rock trio The Balloons and folk-blues troubador Pepe Belmonte.
CJ Proud, Dave Swift and Rik Irvine have been breathing new life into The Balloons for the best part of last four decades.. Slapped senseful by Beefheart, Devo, Henry Cow and Led Zeppelin, The Balloons remain dark and cheery purveyors of juddery, shuddery, jittery, jottery, abstract rockery!
Having grown up in rural south west Ireland, it is hardly surprising to find that Pepe Belmonte has a taste for Irish folk music as well as for old blues and traditional folk. With his distinctive vocal, guitar and harmonica style Pepe's sensitive songwriting has a strong sense of imagery, melody, rhythm and rhyme.
PLAYLIST
Olivia Chaney – Swimming In The Longest River
Pepe Belmonte – Blues Before Sunrise (LIVE SESSION)
Pepe Belmonte – Mountain With A Moving Peak (LIVE SESSION)
Pepe Belmonte – Foolish (LIVE SESSION)
Pepe Belmonte – America (LIVE SESSION)
Declan Q. Kelly – Eat Them Hawk
Brigid Power Ryce – She Moved Through The Fair
Pepe Belmonte – 'interview'
Jack Cheshire – Copenhagen
Fireworks Night – The Gold Leaves
Serafina Steer – Machine Room
Lee Scratch Perry & The Upsetters – The Tackro
Sleaford Mods – Right Back To You
The Balloons – Virus Morality (LIVE SESSION)
The Balloons – Where's Willey Flatts? (LIVE SESSION)
The Balloons – 'improvised piece' (LIVE SESSION)
Toys – Tally Ho
The Balloons – 'interview'
Presenter: deXter Bentley
Live sound engineers: Kacper Ziemianin & Tom Kemp

Standard Podcast
Play Now
|
Play in Popup
|
Download