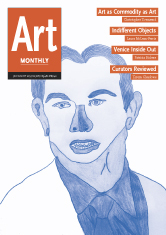 This is the second programme based on content from the July/August issue 368 of Art Monthly.
Patricia Bickers Editor of Art Monthly discusses her feature "Venice Inside Out"  on the real lines that divide insiders from outsiders
At the Venice Biennale, as elsewhere, curators are marshalling 'outsiders' and 'real people' for the benefit of curious spectacle-seekers. But isn't such apparent inclusiveness simply a curtain that hides the persistent asymmetry of power?
'Massimiliano Gioni's aim of blurring "the line between professional artists and amateurs, outsiders and insiders", wilfully ignores the real dividing lines between insiders and outsiders demonstrated everywhere in Venice: money, power and the right to self-determination.'
Patricia is joined by Chris McCormack Assistant Editor of Art Monthly as well as Daniella Rose King who reviewed The Alternative Guide to the Universe which was at the Hayward Gallery, London- another exhibition with Outsider Artists.
The programme is hosted by Matt Hale who has worked at Art Monthly since 1991.
Previous episodes are available on Art Monthly's website www.artmonthly.co.uk/events.htm
Art Monthly magazine offers an informed and comprehensive guide to the latest developments in contemporary art.Fiercely independent, Art Monthly's news and opinion sections provide regular information and polemics on the international art scene. It also offers In-depth interviews and features; reviews of exhibitions, performances, films and books; art law; auction reports and exhibition listings
Art Monthly magazine is indispensable reading!
Special magazine subscription offer  £29 .

Art Monthly Talk Show 12th August 2013
Play Now
|
Play in Popup
|
Download