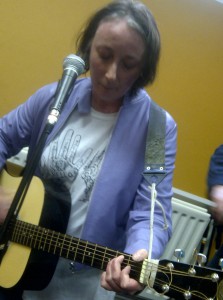 Live music on The Hello GoodBye Show today from David Cronenbergs Wife and Kitchen Winos.
David Cronenbergs Wife will be performing a collection of songs from their new LP 'Don't wait to be hunted before you hide' (Blang Records). Tom Mayne's 21st century urban folk/blues, revels in macabre and taboo lyrical themes that bounce along effortlessly on an incessantly infectious motorik beat.
Kitchen Winos veer waywardly from baggy inflected indie pop one minute to monolithic slabs of instrumental experimental-ism the next.
Playlist:
Kostoglotov – Dictaphone 5
Kitchen Winos – Find the right line (LIVE SESSION)
Kitchen Winos – Mr. Innocent (LIVE SESSION)
Kitchen Winos – Horsethief (LIVE SESSION)
Trevor Moss & Hannah-Lou – For a minute there
Kitchen Winos – 'interview'
Shimmy Rivers & & Canal – Peepholes
Peepholes – The Overspill
Unit – Winter
Keeley Forsyth – Haggerston
Patrik Fitzgerald – Pilgrimage
Viv Albertine – Little girl in a box
Dirty Viv – Chainsaw
The Count of Chateau Noir – Mr. Fox
David Cronenberg's Wife – Coriolanus in the bedroom (LIVE SESSION)
David Cronenberg's Wife – Lonely man (LIVE SESSION)
David Cronenberg's Wife – You can't donate a heart (LIVE SESSION)
The Children's Hour – SOS JFK
David Cronenbergs Wife – 'interview'
Adam & the Antz – Catholic Day
Mud Sharks (extract) by Dave Barbarossa – read by Ean Ravenscroft
Presented by: deXter Bentley, Ean Ravenscroft & Dan Frost
Live sound engineers: Kacper Ziemianin & Tom Kemp

Hello GoodBye - 08.12.12
[ 1:30:02 ]
Play Now
|
Play in Popup
|
Download