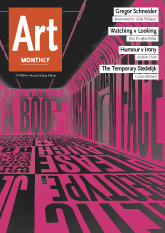 In an age saturated with news footage of international disasters, artists question photojournalism. John Douglas Millar cites artists such as Renzo Martens, Harun Farocki and Aernout Mik, and asks: does art's subjectivity give it a unique angle on the exploitation of tragedy?
'Artists who critique how we consume images of atrocity pose questions about how we might step beyond the barrier of "looking", to an ethical position with regard to images described by the Israeli philosopher and photography theorist Ariella Azoulay as "watching".'
Andrew Hunt suggests that optimism and humour are intelligent alternatives to the cynicism of postmodern irony
Artists' use of irony is commonplace, but irony's reliance on a knowing viewer ensures that it cannot reach beyond a closed audience. Andrew Hunt wonders whether an open humour, as employed by Martin Kippenberger, Christian Jankowski and Wolfgang Tillmans, can reach out instead of in.
'One answer to Ludwig Seyfarth's question, "is there an alternative to Postmodern irony?", is "humour". While irony is a knowing critical instrument, humour, by contrast, can be described as a system that questions accepted values and patterns of experience.'
The programme is produced by Frederika Whitehead and hosted by Matt Hale who has worked at Art Monthly since 1991.
Art Monthly magazine's talk programme on Resonance FM started in February 2009 and is broadcast on the second Friday of each month at 5pm. In each show Art Monthly critics discuss their writing in the latest issue.
The programme is hosted by Matt Hale who has worked at Art Monthly since 1991 and is produced by Frederika Whitehead.
Previous episodes are available on Art Monthly's website www.artmonthly.co.uk/events.htm
Art Monthly magazine offers an informed and comprehensive guide to the latest developments in contemporary art.
Fiercely independent, Art Monthly's news and opinion sections provide regular information and polemics on the international art scene. It also offers In-depth interviews and features; reviews of exhibitions, performances, films and books; art law; auction reports and exhibition listings
Art Monthly magazine is indispensable reading!
Special magazine subscription offer for Resonance 104.4 listeners.Subscribe now and save 40% on the cover price at

Standard Podcast
Play Now
|
Play in Popup
|
Download