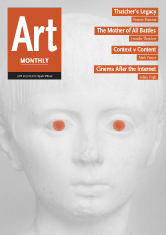 50:50
Women are still woefully under-represented in the art world argues Jennifer Thatcher
The recent resurgence of feminism has seen the art world again come under scrutiny over inequality. Forty years after the flourishing of the Women's Liberation Movement, why is there still so far to go?
'Positive discrimination is illegal in the UK, yet it astonishes me that trustees can look around a room and, where there are few or no women, not feel compelled to make changes.'
Anguish and Enthusiasm: What Do You Do With Your Revolution Once You've Got It Cornerhouse, Manchester
and Linder: The Ultimate Form  The Hepworth Wakefield by Bob Dickinson
London Round-up by George Vasey Raven Row • PEER • Showroom • Corvi Mora
Previous episodes are available on Art Monthly's website www.artmonthly.co.uk/events.htm
Art Monthly magazine offers an informed and comprehensive guide to the latest developments in contemporary art.Fiercely independent, Art Monthly's news and opinion sections provide regular information and polemics on the international art scene. It also offers In-depth interviews and features; reviews of exhibitions, performances, films and books; art law; auction reports and exhibition listings
Art Monthly magazine is indispensable reading!
Special magazine subscription offer  £29 .

Art Monthly Talk Show on Resonance104.4FM 10th June 2013
Play Now
|
Play in Popup
|
Download