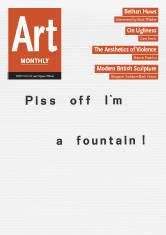 Larne Abse Gogarty  and Dave Beech discuss his feature, On Ugliness from  Art Monthly's March issue. They also discuss Larne's book review of Dark Matter: Art and Politics in the Age of Enterprise Culture by Gregory Sholette, Pluto Press 2010 in the same issue.
Art Monthly magazine's talk programme on Resonance FM started in February 2009 and is broadcast on the second Friday of each month at 5pm. In each show Art Monthly critics discuss their writing in the latest issue.
The programme is hosted by Matt Hale who has worked at Art Monthly since 1991 and produced by Frederika Whitehead.
Previous episodes are available on Art Monthly's website www.artmonthly.co.uk/events.htm
Art Monthly magazine offers an informed and comprehensive guide to the latest developments in contemporary art.
Fiercely independent, Art Monthly's news and opinion sections provide regular information and polemics on the
international art scene. It also offers In-depth interviews and features; reviews of exhibitions, performances, films and books; art law; auction reports and exhibition listings
Art Monthly magazine is indispensable reading!
Special magazine subscription offer for Resonance 104.4 listeners.Subscribe now and save 40% on the cover price at

Standard Podcast
Play Now
|
Play in Popup
|
Download