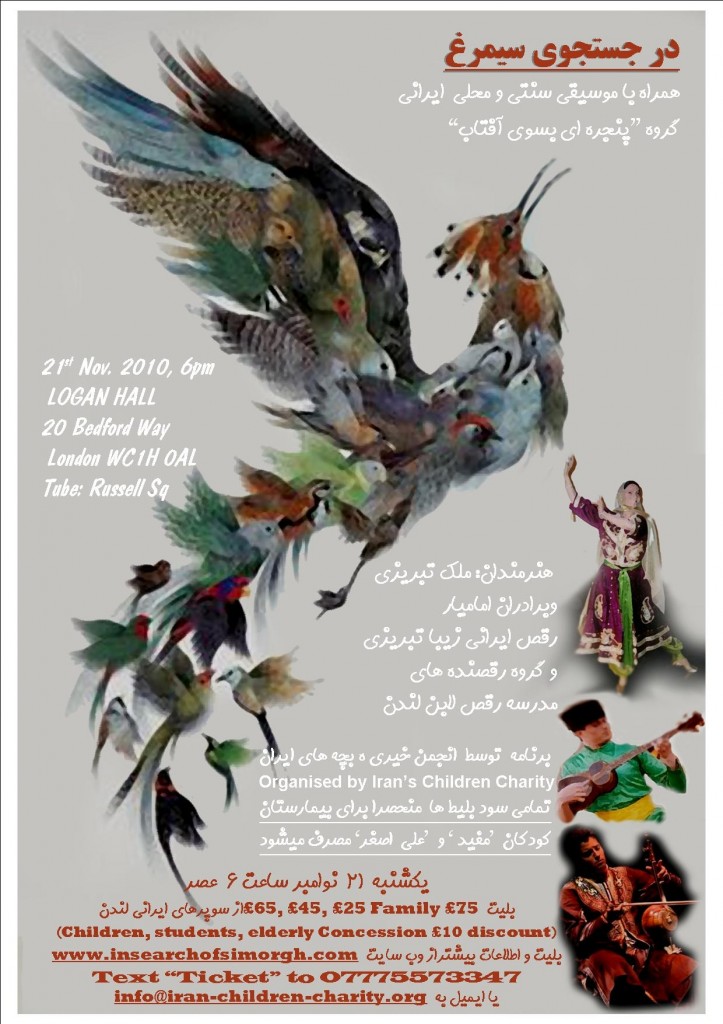 To mark Children in Need Week Dr Helen Nejad from the NGO Iran Children's Charity visits the studio to discuss their drive to raise money for kids in Iran. Focusing mainly on orphans, those without national status or on the streets, the charity aims to supply two university hospitals in Iran that treat children specifically.

'In Search of Simorgh' is Iran Children's Charity's first fund-raising event, a Persian Heritage music and contemporary and traditional dance theatrical performance. The performance is based on 12th Century Sufi classic Conference of the Birds by Farid Uddi Attar, and also loosely on the stage adaptation by Peter Brook and Jean-Claude Carriere. Musicians from Europe play cello, kamanche, tar, santoor, daf and percussion and 7 dancers interpret the text so that there is no language barrier to enjoying the performance.

If you would like to help children in need by simply being entertained, then please complete and return the attached form, or book your ticket online through their event website www.insearchofsimorgh.com The event is hosted by Kids Company founder Camila Batmanghelidjh.
Logan Hall, 20 Bedford Way , London WC1H 0AL
Sunday 21st November
18:00 to 22:00 (programme starts at 19:00)
All funds raised from donations, ticket and raffle sales will be used to purchase Keyhole surgical and other operating theatre equipment for Mofid and Ali Asghar Children Hospitals. Their target over the years is a minimum of £30,000 per hospital for the equipment. Your contribution can really help to save lives of children who undergo operations, facilitate quicker recovery for many more, as well as bringing relief and a smile to their siblings and families.
Feel free to contact them by visiting www.iran-children-charity.org


Standard Podcast
[ 28:43 ]
Play Now
|
Play in Popup
|
Download