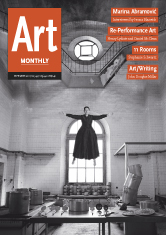 Peter Suchin discusses Outrageous Fortune: Artists Remake the Tarot at Focal Point Gallery, Southend-on-Sea and then continues with John Douglas Millar to discuss John's feature Art/Writing on why experimental writing thrives in the art world. There has been an upsurge in experimental writing, but why has it found its home in the art world rather than the literary industry? Is there a fundamental difference in how writers find audiences within these fields?
'While academic and creative disciplines cross pollinate in the art world, they seem increasingly estranged in the literary world. The result is that the influence of experimental and avant-garde fiction waxes in the world of art while it wanes in the world of publishing.'
The programme is hosted by Matt Hale who has worked at Art Monthly since 1991.
Previous episodes are available on Art Monthly's website www.artmonthly.co.uk/events.htm
Art Monthly magazine offers an informed and comprehensive guide to the latest developments in contemporary art.
Fiercely independent, Art Monthly's news and opinion sections provide regular information and polemics on the
international art scene. It also offers In-depth interviews and features; reviews of exhibitions, performances, films and books; art law; auction reports and exhibition listings
Art Monthly magazine is indispensable reading!
Special magazine subscription offer for Resonance 104.4 listeners.Subscribe now and save 40% on the cover price at

Art Monthly on Resonance104.4FM September 2011
Play Now
|
Play in Popup
|
Download