Free Lab Radio, produced in Dubai for Resonance104.4FM>Stream on Mixcloud or download the mp3 from Soundcloud.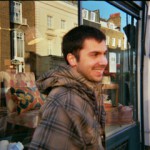 Sataan Al-Hassan, embracing the chance to "finally make a mix that allows the use of favourites with no restriction to genre", brings us his recent playlist, selected and mixed especially for Free Lab Radio.
Al-Hassan grew up in Tunisia, Belgium, Luxembourg and is from Jordan. Now based in the UAE he is a self taught radio and club DJ, and the film programme coordinator at the Sharjah Art Foundation.
Broadcasts Saturday nights 11-midnight, UK time, repeats Thursdays 2-3am.
On air on 104.4FM on your radio across London. Listen online elsewhere with Radio Player.