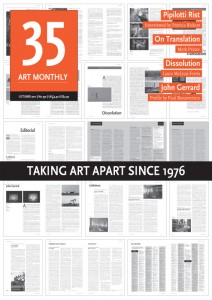 In this programme  writer Laura McLean-Ferris and writer,musician and curator  Morgan Quaintance discuss Laura's feature from the October issue 351 of Art Monthly.
Dissolution– on the internet, sculpture and the body in pieces. A new generation of artists is tackling an age-old modernist subject with a post-internet mindset, asking not what we might fear from future bodily dissolution but how we should celebrate its existing effects.
'Dissolution has been heralded, positively and negatively, incessantly over history. Over the past few years, however, a skewed sense of pace has developed: did we miss it actually happening?'
They also discuss Morgan's review of Digital and Other Virtualities: Renegotiating the Image a book edited by Griselda Pollock and Anthony Bryant which finds virtual reality reinvigorated by new texts. 'Cyberspace, the once maddeningly ubiquitous neologism coined in William Gibson's 1984 novel Neuromancer, has, since its heyday in the early 1990s, been relegated to the bargin bin of passé cultural terminology, along with its sibling virtual reality.'
The programme is hosted by Matt Hale who has worked at Art Monthly since 1991.
Previous episodes are available on Art Monthly's website www.artmonthly.co.uk/events.htm
Art Monthly magazine offers an informed and comprehensive guide to the latest developments in contemporary art.
Fiercely independent, Art Monthly's news and opinion sections provide regular information and polemics on the
international art scene. It also offers In-depth interviews and features; reviews of exhibitions, performances, films and books; art law; auction reports and exhibition listings
Art Monthly magazine is indispensable reading!
Special magazine subscription offer for Resonance 104.4 listeners.Subscribe now and save 40% on the cover price at

Art Monthly on Resonance104.4FM October 2011
Play Now
|
Play in Popup
|
Download