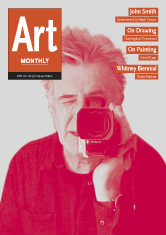 On Drawing- Christopher Townsend
Christopher Townsend touches on the physicality of drawing
Renaissance artists considered drawing a way of communicating the maker's identity, and it remains an artform that is resolutely physical. Even the most apparently hands-off of artists, such as Donald Judd and even Gordon Matta-Clark, are drawn to reveal their corporeality through the medium – albeit at one remove.
'Donald Judd's fabricator drawings become scripts for a bodily performance by the worker who produces the object, with as much space as possible left open for interpretation: the artist's body vanishes, noli me tangere.'
The programme is hosted by Matt Hale who has worked at Art Monthly since 1991.
Previous episodes are available on Art Monthly's website www.artmonthly.co.uk/events.htm
Art Monthly magazine offers an informed and comprehensive guide to the latest developments in contemporary art.
Fiercely independent, Art Monthly's news and opinion sections provide regular information and polemics on the
international art scene. It also offers In-depth interviews and features; reviews of exhibitions, performances, films and books; art law; auction reports and exhibition listings
Art Monthly magazine is indispensable reading!
Special magazine subscription offer for Resonance 104.4 listeners.Subscribe now and save 40% on the cover price at

Art Monthly Talk Show 14th April 2012
Play Now
|
Play in Popup
|
Download