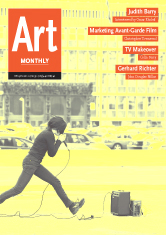 Gerhard Richter: Panorama at Tate Modern
John Douglas Millar discusses his review of Gerhard Richter: Panorama at Tate Modern .
"The show is vast; there is the work that spars with Marcel Duchamp, the landscapes that investigate German Romanticism, September, 2005, his mournful and considered reaction to the attacks on the World Trade Center, the tender but always questioning domestic portraits of his wife and children. I cannot discuss them all here. In the end, the satisfaction of this show comes from the sense that you are constantly in the presence of an intelligence that is both effervescent and probing. A painterly mind that is able, fascinatingly, to think against itself".
The programme is hosted by Matt Hale who has worked at Art Monthly since 1991.
Previous episodes are available on Art Monthly's website www.artmonthly.co.uk/events.htm
Art Monthly magazine offers an informed and comprehensive guide to the latest developments in contemporary art.
Fiercely independent, Art Monthly's news and opinion sections provide regular information and polemics on the
international art scene. It also offers In-depth interviews and features; reviews of exhibitions, performances, films and books; art law; auction reports and exhibition listings
Art Monthly magazine is indispensable reading!
Special magazine subscription offer for Resonance 104.4 listeners.Subscribe now and save 40% on the cover price at

Standard Podcast
Play Now
|
Play in Popup
|
Download