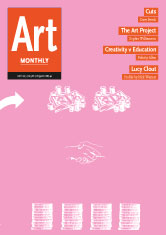 This programme is a discussion around current Art Education and Arts Funding based on texts from issue 366 May 2013 of Art Monthly. It ranges from the history of the Art Academy started 600 years ago up to 2013 University Art Departments and the demise of the Independent Art School.Patricia Bickers and David Barrett editors of Art Monthly are joined by Felicity Allen artist and educator and Dave Beech artist in the Freee Collective and writer.
The programme is hosted by Matt Hale who has worked at Art Monthly since 1991.
Previous episodes are available on Art Monthly's website www.artmonthly.co.uk/events.htm
Art Monthly magazine offers an informed and comprehensive guide to the latest developments in contemporary art.Fiercely independent, Art Monthly's news and opinion sections provide regular information and polemics on the international art scene. It also offers In-depth interviews and features; reviews of exhibitions, performances, films and books; art law; auction reports and exhibition listings
Art Monthly magazine is indispensable reading!
Special magazine subscription offer  £29 .

Art Monthly Talk Show on Resonance104.4FM 13th May 2013
Play Now
|
Play in Popup
|
Download