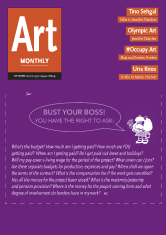 Jennifer Thatcher and Morgan Quaintance bring their two texts from the September issue of Art Monthly together. Jennifer's feature – a conversation with Tino Sehgal and Morgan's review of Claire Bishop's book Artificial Hells.
Tino Sehgal is a key figure in the rise of participatory art, using performers – or 'interpreters' – to engage with audience members. He discussed his current (Sept 2012)commission for Tate Modern's Turbine Hall, his reliance on art galleries for context, the motivations driving his interpreters and his work's avoidance of open-ended public engagement through a strict adherence to 'the craft of composition'.
'Unlike our name-badge culture of faux-intimacy (Hello, my name is Bob, how can I help you?), these interpreters remain anonymous. Yet that anonymity "paradoxically allows for greater intimacy", Sehgal argues, "when you meet a stranger on a train, you can always say more."'
Morgan Quaintance wrote: 'Claire Bishop explains that the dominance of ethical and moral judgement is killing aesthetic assessment in an "ethically charged climate in which participatory and socially engaged art has become largely exempt from art criticism". This new binary (the ethical versus the aesthetic) replaces the passive-active conundrum as the new site of contention to be duked out in the participatory debate.'
The programme is hosted by Matt Hale who has worked at Art Monthly since 1991.
Previous episodes are available on Art Monthly's website www.artmonthly.co.uk/events.htm
Art Monthly magazine offers an informed and comprehensive guide to the latest developments in contemporary art.Fiercely independent, Art Monthly's news and opinion sections provide regular information and polemics on the international art scene. It also offers In-depth interviews and features; reviews of exhibitions, performances, films and books; art law; auction reports and exhibition listings
Art Monthly magazine is indispensable reading!
Special magazine subscription offer for Resonance 104.4 listeners.Subscribe now and save 40% on the cover price at

Art Monthly on Resonance104.4FM September 14th 2012
Play Now
|
Play in Popup
|
Download