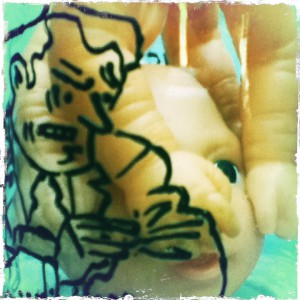 When first this desire consumed me, I did not bother myself with such niceties. I might be at an elegant and sophisticated cocktail party, and I would take someone aside, steer them to a corner where we would not be overheard, and say:
"Can I have your head? I want to take it across the sea, and drop it like an apple of discord."
There would then follow a discussion in the course of which the familiar objections, of criminal intent and physical harm, would be raised. I blustered my way through these by wearing a fixed grin and waving my arms a lot, but the difficulties would not go away.
The Lobster's Tune (Conclusion)
Variation On A Theme Of Gerard Manley Hopkins
This episode was recorded on the 30th June 2011. A complete transcript of this episode can be found on Frank Key's Hooting Yard website. Accompanying Hooting Yard On The Air, the six publications We Were Puny, They Were Vapid, Gravitas, Punctilio, Rectitude & Pippy Bags, Unspeakable Desolation Pouring Down From The Stars, Befuddled By Cormorants , Inpugned By A Peasant And Other Stories and Porpoises Rescue Dick Van Dyke are available for purchase

Standard Podcast
[ 21:07 ]
Play Now
|
Play in Popup
|
Download