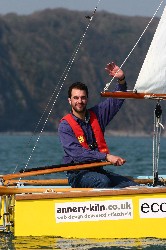 The Low Carbon Show catches up with Mukti Mitchell on his zero-carbon
journey around the coast of Britain in his self-built, micro-yacht. Mukti is
the creator of what is widely regarded as the best online calculator for
measuring your carbon footprint. He is stopping at 40 ports en route to give
talks about the benefits of low carbon living and to promote his new
downloadable publication "The Guide to Low Carbon Lifestyles". PLUS: We
manage to squeeze in some expert advice on carbon offsetting and green
electricity from last week's guest, Chris Goodall.
Related Links:
Download Mukti's "Guide to Low Carbon Lifestyles" at: http://www.lowcarbonlifestyle.org/downloadables.html
Calculate your own carbon footprint at what is widely regarded as the best
carbon calculator on the web: http://www.resurgence.org/carboncalculator/index.htm
For Climate Radio's top tips on what you can do, go to the Resonance FM
Climate Action page: http://resonancefm.com/climate-action