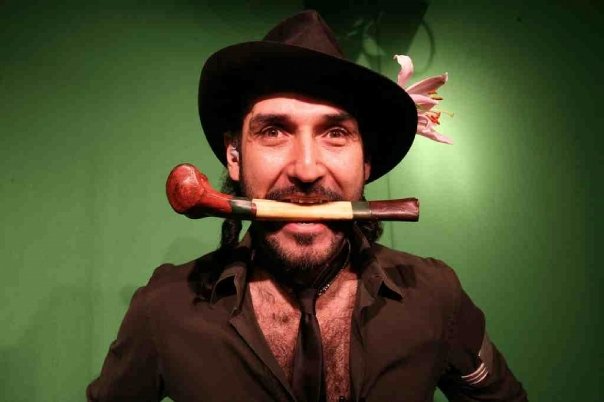 Behzad Bolour, the most unlikely BBC World Service presenter you could imagine (photo for proof) bombarded the ResonanceFM studios with an infectious effulgence.  In advance of the London 'Rumi Rap' concert that he helped organise, Behzad discusses his work and ethics.
ALSO: Shugmonkey, who designed the Six Pillars to Persia flyer, has produced a unique track especially for the show using a left-handed Saz and a mini-saz. Check out Shug's vocals as featured on TransGlobal Underground's new album MOONSHOUT.
Behzad discusses with presenter Fari Bradley everything from Iranian mountains to man's simian beginnings. BBC World Service is known for it's dry, matter-of-fact style. What a surprise then to meet a senior producer at Persian World Service who thinks nothing of about being photographed in a pink mini skirt, falling his knees during a televised broadcast or posting pictures of himself squatting over a bucket shower on his BBC-hosted blog. It is due to this unusual approach to TV and radio that he is the black sheep of the Persian world service. At the same time he is a life-line for many young Iranians, dispersed all over the world looking for a meaningful forum for their interests.  He often visits Dubai or Iran highlighting a variety of young people's work, from rappers to film stars.
It is strange for us, in this climate of media trepidation as regards discussing Iran, to meet someone so freely spoken and happily in defiance of this prevailing attitude. Behzad says he thinks of god as a little child, which we take to mean that innocence and joy are divine characteristics (this is our interpretation, taken from Sri Ganesha, the eternal child god in Hindusim). He impresses on us his view that the days of a stern old man, waiting to punish us is outdated as an image of authority. It is the youth who will teach us, and we're happy to hear it!
Also in this episode, Steve Kaszcinsky reports on Reza Aramesh's contribution to an exhibition curated by Gordon Cheung: 'The Lucifer Effect'. Reza is a former Six Pillars guest, back in 2005.
This show is the third in the second series of Six Pillars to Persia on Resonance 104.4FM and was recorded on October 1st 2007 at the ResonanceFM studios.  It was produced, engineered and presented by Fari Bradley.

Standard Podcast
Play Now
|
Play in Popup
|
Download