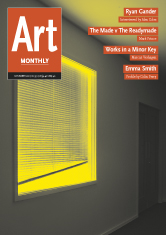 The Made v The Readymade
Mark Prince on the resistance of objects
In the story of recent sculpture, making has given way to assemblages and installations of known objects that carry narrative overtones – but there are artists who resist this trajectory. If the readymade reduces the object to a transferrable set of signs, how have artists such as Phyllida Barlow, Tony Cragg, Richard Deacon and, more recently, Nairy Baghramian, Michael Dean and Alexander Heim short-circuited this current?
'If art is expected to function as a vehicle for a set of branded narratives that should be as summarisable as possible from a digital remove, "eliminating recognisable things" might be a form of resistance.'
The programme is hosted by Matt Hale who has worked at Art Monthly since 1991.
Previous episodes are available on Art Monthly's website www.artmonthly.co.uk/events.htm
Art Monthly magazine offers an informed and comprehensive guide to the latest developments in contemporary art.
Fiercely independent, Art Monthly's news and opinion sections provide regular information and polemics on the
international art scene. It also offers In-depth interviews and features; reviews of exhibitions, performances, films and books; art law; auction reports and exhibition listings
Art Monthly magazine is indispensable reading!
Special magazine subscription offer for Resonance 104.4 listeners.Subscribe now and save 40% on the cover price at

Art Monthly on Resonance104.4FM November 2011
Play Now
|
Play in Popup
|
Download