One day, after a huge breakfast, Ignapfando had a total eclipse of the heart, just like that songstress whose name escapes me. He did not look as if it was happening. Indeed to the untrained eye Ignapfando looked as if he was asleep, rather than in the throes of convulsive emotional turmoil accompanied by strident rock music. Adding to the disjuncture was the fact that Ignapfando resembled Clement Attlee, down to the finicky moustache and an inadvisable line in hats.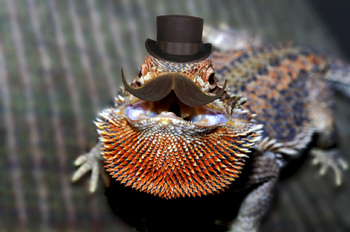 Nevertheless, when he went to his priest for confession the following Sunday, there could be no doubt about the upheavals of his passion.
Total Eclipse
Claude
Massacre Of The Innocents At Hoon
Vaporetto Or Bus?
Then The Boisterous Man
And No Birds Sing
Whither Blenkinsop?
This episode of Hooting Yard was first broadcast on the 17th January 2007. A complete transcript of this episode can be found on Frank Key's Hooting Yard website, and the perfect Hooting Yard On The Air companion Befuddled By Cormorants is available for purchase. Photo by The Horned Jack Lizard.

Standard Podcast
Play Now
|
Play in Popup
|
Download