This episode of Hooting Yard On The Air contains the story 'Ice Chaos' which was written including words sponsored by listeners, in aid of raising funds for Resonance FM.
Now, it has been pointed out to me more than once that I am hardly qualified to talk about extreme weather conditions, as the only weather we get at Hooting Yard is rain, sometimes torrential, sometimes a drizzle, and this is true.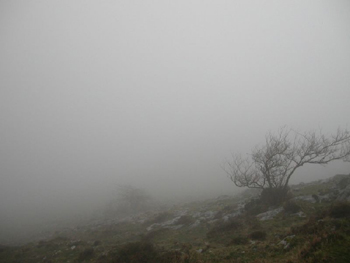 What my critics fail to note is that, ensconced in a cabin somewhere over by Blister Lane Bypass, we have a superb forecaster. I speak, of course, of Little Severin, the Mystic Badger. When it comes to predicting the weather, Little Severin is second to none, not even to the BBC's magnificent Dan Corbett. If you have not watched Dan, visit That's The Weather For Now and be amazed. Little Severin the Mystic Badger has not yet been blessed with a fan site all his own, but it can only be a matter of time.
Succour For Convulsive Infants
Ice Chaos
The Parish Wolf
Dobson's Chartreuse Weskit
He Preened, Eating Bloaters
This episode of Hooting Yard was first broadcast on the 14th February 2007. A complete transcript of this episode can be found on Frank Key's Hooting Yard website, and the perfect Hooting Yard On The Air companion Befuddled By Cormorants is available for purchase. Photo by Oneras.

Standard Podcast
Play Now
|
Play in Popup
|
Download