Episode 6: Finsbury and Pentonville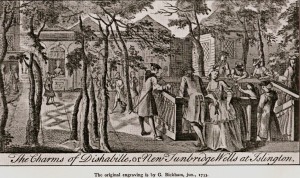 This week Nick and John take a languid winter stroll along the arbours of the pleasure grounds and spa resorts of Finsbury and Pentonville.
Heading by way of a dank Saffron Hill with talk of Oliver Twist and the Sabini Gang they take in Coldbath Square, The Islington Spa, Bagnigge Wells, St. Chads and others mentioned in Old London's Spas, Baths & Wells by S.P. Sunderland (1915).
They discuss the cluttered local history of the area now under the auspices of the London Borough of Islington and some of the more imaginative mythology concerning the Penton Mound.
With reading by Heidi Lapaine and music by Europa51
Read more about this episode here

Finsbury and Pentonville
[ 30:00 ]
Play Now
|
Play in Popup
|
Download