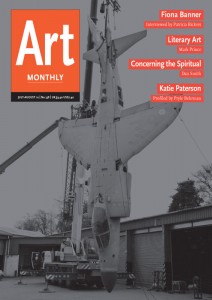 Mark Prince investigates art that uses language, and discusses the ways that narrative manifests itself in contemporary art.
Coline Milliard reports back from  Falmouth Convention organised by Teresa Gleadow with University College Falmouth. Artists, critics and curators gathered to discuss whether a bid to host Manifesta in Cornwall in 2014 was viable, or even worthwhile. Faces around the debating table included writer Lucy Lippard, artist Tacita Dean, Director of the Banff Centre in Canada Kitty Scott, director of Grizedale arts Adam Sutherland and co-curator of Manifesta 8 Bassam El Baroni.
The debate quickly zoned in on the central question: are residencies worthwhile? Is the work produced on residencies likely to benefit the local community – who are, after all, stumping up the bill. Cornwall have been told that they would have to find a cool 3m euros is they want to host Manifesta in 2014.
The Art Monthly Show is produced by Frederika Whitehead
Art Monthly magazine's talk programme on Resonance FM started in February 2009 and is broadcast on the second Friday of each month at 5pm. In each show Art Monthly critics discuss their writing in the latest issue.
The programme is hosted by Matt Hale who has worked at Art Monthly since 1991
Previous episodes are available on Art Monthly's websitewww.artmonthly.co.uk/events.htm
Art Monthly magazine offers an informed and comprehensive guide to the latest developments in contemporary art.
Fiercely independent, Art Monthly's news and opinion sections provide regular information and polemics on the international art scene. It also offers In-depth interviews and features; reviews of exhibitions, performances, films and books; art law; auction reports and exhibition listings
Art Monthly magazine is indispensable reading!
Special magazine subscription offer for Resonance 104.4 listeners.Subscribe now and save 40% on the cover price at www.artmonthly.co.uk/sub09

Standard Podcast
Play Now
|
Play in Popup
|
Download