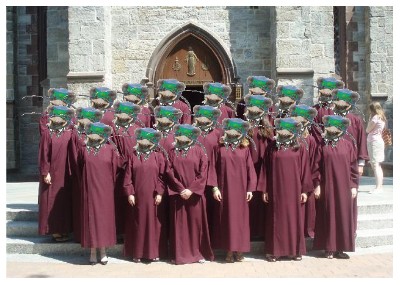 Mr. Key and Pansy Cradledew join Mr. Phil Minton's Feral Choir for some knock-a-bout sonic japes involving exciting mouth noises.
Mr. Key writes:
'Incidentally, and quite coincidentally, both Phil Minton and I have contributions due to appear in a forthcoming recipe book, to be sold for charity. I am not joking. I will of course keep readers fully informed, so you can buy innumerable copies when this invaluable tome hits the boulevards.'
This performance was recorded on the 29th May 2010. Details can be found on Frank Key's Hooting Yard website. Accompanying Hooting Yard On The Air, the four publications We Were Puny, They Were Vapid, Gravitas, Punctilio, Rectitude & Pippy Bags, Unspeakable Desolation Pouring Down From The Stars and Befuddled By Cormorants are available for purchase.

Standard Podcast
[ 58:15 ]
Play Now
|
Play in Popup
|
Download