Episode 2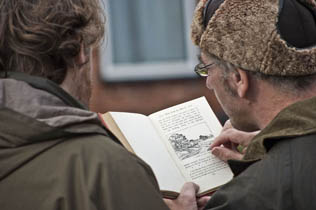 Ventures and Adventures in Topography is a show that looks at the rich tradition of early 20th century topographical walking guides to London and the South East and explores what use they might be to us today. Presented by John Rogers and Nick Papadimitriou.
In this episode John and Nick take a topographical ramble through the pages of The Fringe of London by Gordon S. Maxwell published in 1925. They hold this book as being the holy text of suburban wayfarer. Includes field recordings of a trip to Monks Park near Wembley following Maxwell's chapter on that suburb when it was a rural district. They also discuss Maxwell's writing with Professor Kristen Bluemel.
More info about the episode can be found here.
Email Nick and John: deeplibrary@yahoo.com
Originally broadcast on Wednesday 11th November 2009.

Ventures In Topography - Episode 2
Play Now
|
Play in Popup
|
Download