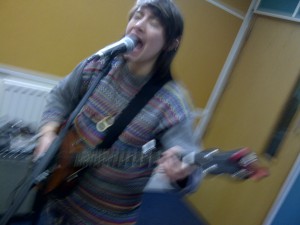 Hello GoodBye possibly bites off more than it can chew this Saturday lunchtime, with not 2 but 3 sets of live performers in the studio; Dead Rat Orchestra, Hallo Halo & David Tattersall.
Since forming in 2002, The Dead Rat Orchestra have played regularly throughout the UK and Internationally, always attempting to react or interact with their surroundings and the people and ideas that they come across – often crafting each performance for the particular space in which they find themselves (from former abattoirs to churches, concert halls to coppice woods). Dead Rat Orchestra are Daniel Merrill, Robin Alderton and Nathaniel Mann.
Halo Halo take their name from a very tasty, multicoloured desert from the Philippines. They are Jack on drums, singing and Harmonica and Rachel on Banjo, singing and Gill on keyboards and bass. Halo Halo make music that careens, drawing on Appalachian folk rambles as well as the hyper melodic clattering Sinawi vibes of Korea's shamanic past. Check out their debut 7? single 'Manananggal' on M'Lady's records now.
The Wave Pictures frontman David Tattersall recorded his new solo album Little Martha in one day with Simon Trought at the old Soup Studio, underneath the Duke of Uke ukulele shop on Hanbury Street, just off Brick Lane in East London. There are no overdubs on the album, which was recorded live with one microphone. Franic Rozycki stopped by to play mandolin on a couple of tracks, but otherwise it's entirely me playing acoustic guitar. There are no vocals on the album.
Playlist:
Duke Garwood – Tapestry of Mars?
Dead Rat Orchestra – Fram (LIVE SESSION)?
Dead Rat Orchestra – The Geshin and the Guga (LIVE SESSION)?
Dead Rat Orchestra – Kuridza (LIVE SESSION)?
This is the Kit – White Ash Cut (HG archive)?
Dead Rat Orchestra – 'interview'?
Great Park – Lover Oh Lover?
Kitchen Winos – Mr. Innocent?
David Cronenbergs Wife – What were you doing with that man at the back of the woods?
The Wave Pictures – Just Like a Drummer?
David Tattersall – Great Dream from Heaven (LIVE SESSION)?
David Tattersall – 'interview'?
David Tattersall – Living in the Country (LIVE SESSION)?
The Fisherman Three – Time to think about the morning once again?
Hallo Halo – Taro Taro Taro (LIVE SESSION)?
Hallo Halo – Sunshine Kim (LIVE SESSION)?
Hallo Halo – Wooden Box (LIVE SESSION)?
Hallo Halo – Coming Home (LIVE SESSION)?
Halo Halo – 'interview'?
Slushy Guts – Trying to be more like you but failing
Live sound engineers: Tom Kemp & Joe Oldfield
?Presenters: deXter Bentley & Ean Ravenscroft

Hello GoodBye - 01.12.12
[ 1:30:00 ]
Play Now
|
Play in Popup
|
Download