The USS Milquetoast Jesuit is sponsored by L'Oreal, and is powered by light-reflecting booster technology, just like Andi MacDowell's hair. Captain Biff is contractually bound to use various L'Oreal hair products, but if he had his way he would smear his ginger mop with grease from the engine room.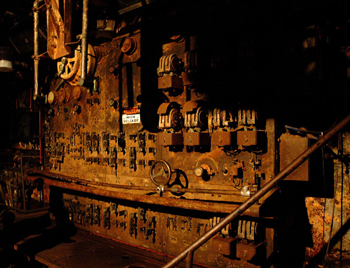 He is that kind of captain. When danger threatens, as it often does, he tousles his mop with one hand while punching the starship's complicated control panel expertly with the other, all the while barking out commands to his crew. His accent is a curious mixture of Wyoming, Luxembourg, and vampire. He is extremely fond of Janacek's String Quartet Number One, "The Kreutzer Sonata", and likes to have it played by the starship band at moments of high peril. When they are otherwise engaged, for example if they have been beamed down to a newly discovered planetoid to give an impromptu concert of Thomas Beecham Lollipops, Captain Biff loses his rag and flies into a temper tantrum, with much uncontrollable flapping about and twitching.
This episode was recorded on the 8th May 2008. A complete transcript of this episode can be found on Frank Key's Hooting Yard website. Accompanying Hooting Yard On The Air, the two publications Unspeakable Desolation Pouring Down From The Stars and Befuddled By Cormorants are available for purchase.

Standard Podcast
Play Now
|
Play in Popup
|
Download